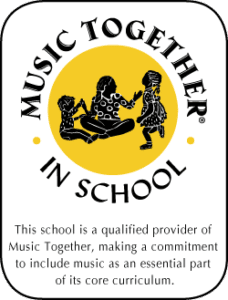 Music Together
We are pleased to have a partnership with Music Together for our Clementine's Music Maker's Club in each classroom one morning per week.
As part of the Music Together® curriculum, Music Together specialists teach weekly music and movement classes in early learning settings in cooperation with classroom teachers. Classroom teachers then follow through on the weekly sessions, adapting activities to their curriculum needs and interests. Recordings, songbooks, and teaching materials are provided to each classroom and family. Children "bring the music home" for parent-child music play, sharing the songs and activities learned in school.
The Music Together curriculum provides children with the opportunity to learn music in developmentally appropriate ways; supports their cognitive, emotional, social, and physical development, enhances the classroom experience, gives parents enjoyable and significant ways to nurture their children's development and enhances happiness and well-being in the school community.
Spanish
A product of Montessori, Michelle Lally is thrilled to be joining the Clementine Montessori community as the Spanish teacher.  Prior to returning to Philadelphia Michelle taught Spanish at the high school level for four years in Boston. From 2012-2013 she lived in San Salvador, El Salvador coordinating a study abroad program called La Casa de la Solidaridad for college students with an orientation towards social justice. From 2013-2014 she lived in Córdoba, Argentina establishing a similar study abroad experience for college students. She studied Spanish and Secondary Education at Loyola University Maryland and took advantage of every opportunity to learn and serve abroad while she studied there.  Her philosophy around teaching Spanish heavily relies on authenticity, and incorporating the voices, artwork and literature of native-Spanish speakers. Her classroom utilizes visuals, music, dance and play in order to engage and excite students to learn this beautiful language.